A stone's throw from every beach in France.
You will find 170 possibilities to enjoy every seaside in France, diving into the wonderful water while enjoying the comfort and warm welcome that are synonymous with Camping Qualité.
The Channel beaches, both sand and shingle, at the foot of the awesome white cliffs of Etretat, with a backdrop of coloured houses and little ports. The haunt of sand yachts, kites and seabirds at the Baie de Somme.
The beaches of Normandy, to release your emotions, enjoy Mont Saint-Michel or spend your days digging for shellfish.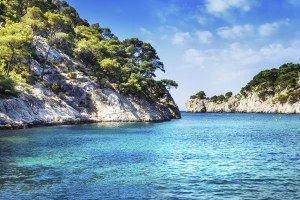 The beaches of Brittany
The beaches of the Atlantic, from Southern Brittany to the dreamlike islands at Oléron and Quiberon, through the Vendée and Charente Maritime to the never-ending shores at the Dune du Pyla or the Bassin d'Arcachon.
Discover Biarritz and the unspoilt charm of the Basque Country.
Finally, the coves of the Mediterranean, the pine woods from Catalonia to the Côte d'Azur and the magical sands of Corsica.