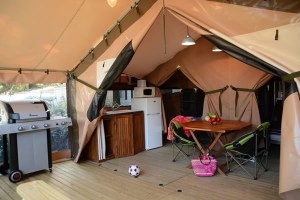 See our campsites with rentals
All the joy of camping, with no need to put up a tent since everything has already been installed, equipped and furnished for your welcome.
There is a wide range of equipped tents, available in many different colours. The more recent models are a little more exotic, offering spacious accommodation made from a combination of canvas and wood. A wide opening onto the terrace, protected by an awning and equipped with garden furniture, will allow you to make the most of the outdoor life. Inside, you will find a cheery lounge, fitted kitchen area and two separate bedrooms for parents and children, with real beds and comfortable mattresses. Some models have a bathroom with shower, basin and toilet. Electricity supply throughout. Large bay windows equipped with mosquito nets. Comfort, independence and the great outdoors is guaranteed.